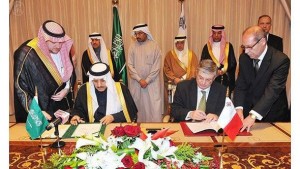 Malta signed a 'Convention on the Avoidance of Double Taxation' with Saudi Arabia during bilateral talks held by Malta's Deputy Prime Minister and his counterpart in Riyadh on 4 January 2012.
Saudi Arabia is the largest member of the Gulf Cooperation Council with the most power and oil-based economy.
According to the Department of Information, there are currently 10 companies registered in Malta which are owned by Saudi Arabian individuals or entities.
The agreement should significantly boost bilateral trade and investment flows. Malta already experiences a trade surplus with the nation, although trade levels remain low. In 2008, Malta exported €15.3m worth of goods to Saudi Arabia, while imports amounted to just €1.5m.