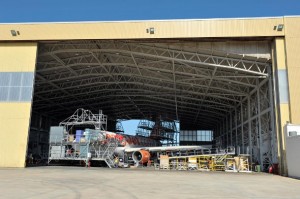 10 May 2012 was a particular day for Malta's aviation sector.
First, the Government of Malta announced a €22 million private investment in a specialised and dedicated facility for the painting and repainting of aircraft and the provision of interior refurbishment services. Malta then inaugurated a €17 million Aviation Park at Safi, Malta.
Prime Minister Lawrence Gonzi described the aviation sector as one of the pillars of the government's economic programme with 1,000 people now employed in the sector. The government, he continued, was committed to seeing further growth.
Malta's success in the sector was also highlighted by the International Monetary Fund's Article IV Consultation report published earlier on this week.
The Safi Aviation Park is a healthy aviation cluster which includes well-established world leaders in their segment, such as Lufthansa Technik, SR Technics, Rolls Royce, MCM, Aviation Cosmetics and Medavia.
This investment is in line with the Government's commitment to support the growth of this industry, through a balance of fiscal incentives, the construction of facilities, the training of quality human resources, but also of a flexible and responsive response towards potential investors.