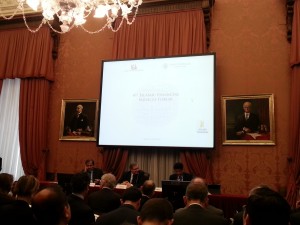 David Zahra, founding partner of David Zahra & Associates, has recently participated in the 4th Islamic Financial Services Forum: The European Challenge held at the Banca d'Italia in Rome, Italy on 9 April 2013.
The forum was organised by the Islamic Financial Services Board (IFSB), an international standard-setting organisation that promotes and enhances the soundness and stability of the Islamic financial services industry by issuing global prudential standards and guiding principles for the industry.
Addressed by the Ignazio Visco, Governor of the Banca d'Italia, Sheikh Abdulla Saoud Al-Thani, the Governor of the Qatar Central Bank, and Jaseem Ahmed, Secretary-General of the IFSB, the forum dealt with the current Islamic financial landscape globally and in Europe; the legal, regulatory and institutional challenges in Europe; issues relating to the issuance of Sukuk in Europe; as well as the challenges and opportunities for Islamic Finance in the current financial climate.