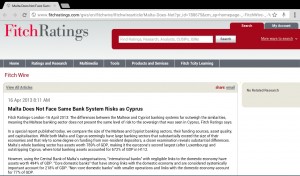 FitchRatings (www.fitchratings.com) has confirmed that Malta does not face same bank system risks as Cyprus.
Research it carried out showed that "[w]hile both Malta and Cyprus seemingly have large banking sectors that substantially exceed the size of their economies and that rely to some degree on funding from non-resident depositors, a closer examination reveals substantial differences."
In fact, Fitch has given Malta an 'A+ with a stable outlook' rating.
Fitch reported that Malta's whole banking sector has assets worth 789% of its GDP, the second largest in the Eurozone, but when breaking down this figured, it noted that only 218% of this figur related to core domestic banks (compared to Cyprus' 466%). Accordingly, the contingent liability placed on Malta is much less than that in Cyprus.
The Maltese banking system is also less susceptible to a destabilizing withdrawal of non-resident deposits as most of these deposits are in international banks and relate to deposits of parent banking groups, which put forward a lower risk of capital flight.