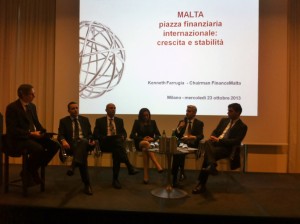 David Zahra has recently participated at a cocktail networking reception entitled "MALTA centro per i servizi finanziari: le opportunità per gli operatori italiani" (or "Doing Business in the Malta Financial Centre, Opportunities for Italy") in Milan, Italy.
The event, held on Wednesday 23rd October 2013, was a great success with over 100 attendees from the Italian fund, banking and asset management sectors.
Mr Kenneth Farrugia, Chairman of FinanceMalta, the public-private initiative organising the event, spoke about the historical developments in the Maltese financial services industry. Dr Louis de Gabriele then gave a presentation on Malta's regulatory environment.
The event then hosted a panel discussion moderated by Gianpaolo Broccardi, Direttore Generale of LaMiaFinanza.it. The panel consisted of Dr Joe Ghio, partner at Fenech & Fenech Advocates, Mr David Zammit, partner at Zeta Investments Holding Limited, Dr David Zahra, partner at David Zahra & Associates Advocates, Dr Marina Grech, Associate at Ganado Advocates and Mr Joseph Camilleri, Head of Business Development at Valletta Fund Services.
David Zahra spoke about Malta being an ideal location for wealth management planning, with particular emphasis on the use of instruments such as trusts, foundations and
schemes for high-net-worth individuals.
The event concluded with a networking reception at which participants shared opinions and contact information.
H.E. Vanessa Frazier, Malta's ambassador to Italy, attended the event.