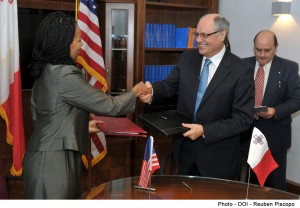 Malta and the United States of America have signed ?a bilateral inter-governmental agreement to improve international tax compliance and to implement the Foreign Account Tax Compliance Act (FATCA) on Monday 16 December 2013.
FATCA improves international tax compliance through mutual assistance in tax matters based on an effective infrastructure for the automatic exchange of information between the two jurisdictions. It targets non-compliance by U.S. taxpayers using foreign accounts and requires foreign financial institutions to report to the US tax authorities, information about financial accounts held by U.S. taxpayers, or by foreign entities in which U.S. taxpayers hold a substantial ownership interest.
Malta will now work together with the U.S. to "detect, deter and discourage offshore tax abuses and build a stronger, more stable, and more accountable, global financial system".
Click here to view the statement released by the Department of Information, Malta.