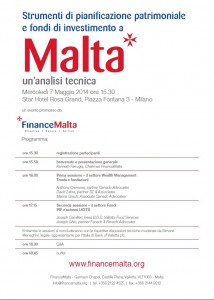 A technical analysis of wealth management instruments and investments funds in Malta is being organised by FinanceMalta,  a public-private initiative set up to promote Malta as an international financial centre, in Milano, Italy on Wednesday 7 May 2014 between 1530 hours and 1845 hours at Star Hotel Rosa, Piazza Fontana, Milano.
The event will be in Italian and is entitled "Strumenti di pianificazione patrimoniale e fondi di investimento a Malta".
David Zahra will be form part of the first panel dealing with wealth management and will be answering questions posed by Simone Meneghini, legal representative of Bank of Valletta p.l.c. in Italy, on trusts and foundations.
Interested persons may register by accessing this link. Kindly click here to download the invitation to this event.