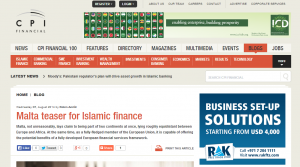 The Maltese Government is currently considering whether it should issue a sukuk (also known as an Islamic bond) to see what the reaction of the markets would be and to give a political message that this is the sort of instrument Malta is in favour of.
This was confirmed in a recent interview with the Prime Minister of Malta by Robin Amlôt, Managing Editor of CPI Financial.
CPI Financial is a publishing house delivering financial news, features and analysis to bankers and business throughout the Middle East and beyond.
The United Kingdom has recently issued Europe's first sovereign sukuk, in an issuance worth £200 million with was heavily oversubscribed with a total of £2.3 billion in orders placed by investors. Luxembourg intends to become the first Euro area member to issue a sovereign sukuk and is planning on doing so before the end of the year.