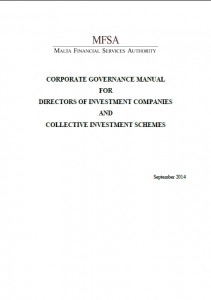 Considering the vital role directors play in the proper operation of an investment fund and investment companies, the Malta Financial Services Authority ("MFSA") has recently updated the Corporate Governance Manual for Directors of Investment Companies and Collective Investment Schemes by taking into account the requirements of the Alternative Investment Fund Managers Directive (2011/61/EU).
The Manual was published on 16 September 2014.
The Manual seeks to provide general guidance on the implementation of good governance in financial services.
Click here to access the updated Corporate Governance Manual.