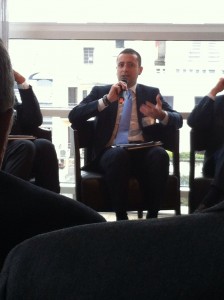 Europe's ambitious infrastructure targets are only one of the many opportunities that exist for the development of an Islamic finance industry in Europe. The required investment is so massive (estimated at €2 trillion) that governments and the private sector necessarily need to look for and tap into alternatives sources of funding. Islamic financial structures can specifically address this need by opening up new channels of capital and investment.
This was highlighted by David Zahra, founder of David Zahra & Associates Advocates, during a workshop held in Milan on 25 March 2015 entitled "Gulf&Med: Il mercato, gli investimenti e la finanza islamica".
The business forum was organised by Fondazione ISTUD (www.istud.it) under the patronage of the Italian Ministry for Economic Development.
The workshop was led by journalist and author Maurizio Guandalini, and the speakers included Alberto Brugnoni (managing director at Assaif), Hatem Abou Said (representative in Italy of Al-Baraka banking group of Bahrain) and Simone Meneghini (manager of Bank of Valletta's representative office in Milan) who discussed Malta's role as a springboard for investment in the Gulf and Mediterranean regions.