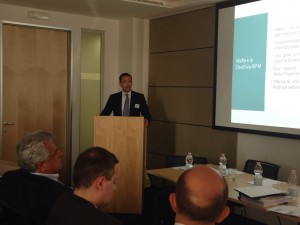 Malta's decision to retain its "professional investor fund" regime alongside the AIFMD regime was acclaimed by both speakers and participants at a seminar organised by the international law firm Withers, Bank of Valletta, Valletta Fund Services and David Zahra & Associates Advocates.
The seminar, entitled "Ahead of the curve: il mercato unico degli AIF in UE e la posizione di Malta", took place on Thursday 4 June 2015 at Withers' Milano office in Piazza Missori.
Andrea Luciano, partner and Head of Financial Services and Investment Funds at Withers, together with Mirko Lacchini, associate at Withers, spoke about the cross-border aspects of the Alternative Investment Fund Managers Directive (AIFMD) and the potential benefits of investment funds falling within the parameters of Regulation No 345/2013 on European Venture Capital Funds.
Joseph Camilleri, Head of Business Development at Valletta Fund Services, a recognised fund administrator in Malta, gave a brief overview of Malta's financial services sector as well as the opportunities offered by the registration of professional investor funds and alternative investment funds in Malta.
David Zahra, founder of David Zahra & Associates Advocates, then concluded the seminar by explaining the various legal forms and structures available for the establishment of investment funds. Particular focus was given to the options available for the management of private wealth including the use of professional investor funds falling under the AIFMD's 'de minimis' thresholds and private collective investment schemes.
A brief overview of the process leading to the funds' licensing and the tax implications was also given.
The seminar, conducted in the Italian language, was moderated by Simone Meneghini, Bank of Valletta's legal representative in Italy.