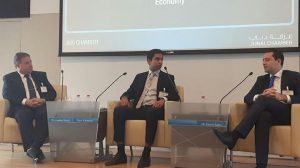 Malta's role as a springboard for Middle Eastern investment into Europe was the focus of David Zahra's presentation to the Dubai Chamber and the Abu Dhabi Chamber earlier this week, as part of a trade delegation to the Middle East organised by TradeMalta and FinanceMalta.
Malta, David Zahra said, had an everlasting vocation: a centuries-old trading post in the middle of the Mediterranean, acting as the melting pot of conventional finance and the workings of Islamic finance, a bridge between Europe and the Middle East. Malta allowed investors to tap into a market of more than 500 million people via efficient vehicles and structures (including Shariah-compliant investment funds).
The trade delegation consisted of a sizable number of Maltese businessmen coming from various sectors.
Two business forums were organised, one at the Dubai Chamber (Monday 21 November) and the other at the Abu Dhabi Chamber (Tuesday 22 November), which were then followed by a series of B2B meetings.
David Zahra also attended a networking event at the World Trade Club at the World Trade Centre in Dubai on "Malta: The Gateway to Europe and the Middle East" organised by Sovereign, where the possibilities of using corporate and investment structures (including Shariah-compliant structures) was discussed.
A copy of the presentation delivered by David Zahra may be accessed here.