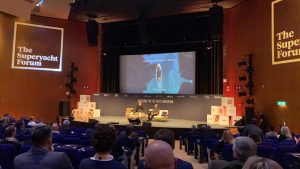 Matthew Cassar has recently represented the firm and participated in the Amsterdam Superyacht Forum held on the 18th to the 20th of November 2019.
The Superyacht Group has been involved in delivering events through which they bridge professionals and brands in an environment which allows for debate and the collaboration of experienced and up and coming minds within the superyacht industry. The Superyacht Forum in Amsterdam is their flagship event.
This year the Superyacht Forum embraced the idea of sustainability within the Superyacht Industry through the theme of Building for the Next Generation. Through future thinking keynotes and workshops the Forum was able to deliver a valuable and powerful meeting place for everyone invested in the business of yachting.
This forum provided David Zahra & Associates further knowledge in relation to superyacht industry and the direction which the industry is taking especially within the next 10 years. Attendance at this forum allowed David Zahra & Associates to have the necessary tools to be able to contribute within the firm's sphere of work in the development of this industry in line with the direction in which the industry is headed.