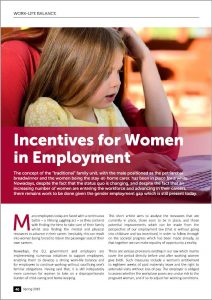 This article first appeared on the Spring 2019 edition of the The Accountant, the quarterly journal of the Malta Institute of Accountants.
The concept of the "traditional" family unit, with the male positioned as the patriarchal breadwinner and the women being the stay-at-home carer, has been in place for a while. Nowadays, despite the fact that the status quo is changing, and despite the fact that an increasing number of women are entering the workforce and advancing in their careers, there remains work to be done given the gender employment gap which is still present today.
Many employees today are faced with a continuous battle – a lifelong juggling act – as they contend with finding the time to take care of their family whilst also finding the mental and physical resources to advance in their career. Inevitably, this can result into women being forced to ride in the passenger seat of their own careers.
Nowadays, the EU, government and employers are implementing numerous initiatives to support employees, enabling them to develop a strong work-life balance and for employees to continue working without sacrificing one's familial obligations. Having said that, it is still indisputably more common for women to take on a disproportionate burden of child-caring and home-keeping.
This short article aims to analyse the measures that are currently in place, those soon to be in place, and those potential improvements which can be made from the perspective of our employment law (that is without going into childcare and tax incentives) in order to follow through on the societal progress which has been made already, so that together we can make equality of opportunity a reality.
There are various provisions existing in our law which mainly cover the period directly before and after working women give birth. Such measures include a woman's entitlement to eighteen weeks of paid maternity leave and the right to antenatal visits without loss of pay. The employer is obliged to assess whether the workplace poses any undue risk to the pregnant woman, and if so to adjust her working conditions. In the case that this is not possible, the woman in question would be entitled to special maternity leave, being leave of absence from work for as long as the risk exists, and which leave shall be paid at the rate of sickness benefit. Moreover, during pregnancy and for a period of twelve months after the birth (or adoption) of the child, a woman shall not be obliged to work overtime. On the other side of the spectrum, during such period the male would be entitled to only one day of paid leave upon the birth of the child.
If one had to analyse the implications that may be inferred from the employment laws in place, these tend to suggest that it is women who should be the carer of the family and not the male. Such implication arises from the fact that with only one day of paid leave being given to the male upon the birth of their child, the child-caring role tends to be forced onto the woman.
Moreover, one can clearly see that although our current laws cater for the period before and after the birth of the child, our legislation is sorely lacking in the enforcement of measures to help and encourage working women following such period. The only measure in our law which caters for the above is that of parental leave, which is however unpaid and therefore might not be seen to be an adequate measure to aid the family. Parental leave entitles both women and men to four months of unpaid leave per child and such leave can be taken up until the child is eight years old and must be taken in periods of one month at a time.
More recent changes to our laws include the introduction of the Maternity Fund, clarifications in relation to the accrual of benefits during maternity leave, as well as the introduction of both adoption leave and leave for medically assisted procreation.
A directive on work-life balance for parents and carers has been introduced at an EU level and is to be transposed into Maltese law shortly. The provisions being introduced will help reconcile domestic and work responsibilities, as well as help push towards the idea of shared caring responsibilities. This in turn will help in the advancement of women in the workplace and will help ensure equality of pay and inconsistencies later in life (as the less hours women work the lower their pension would be).
Such Directive will introduce paternity leave into our law, increasing leave for men from one day of paid leave to ten days at sick pay level. This will help encourage the father to be more involved in the care of their children, which will be a step forward in ensuring that child-caring becomes a shared responsibility among both parents.
The Directive confirmed the four months of parental leave available for each parent, however now parents have the right to take the leave in a more flexible manner (that is full time, part time or in a piecemeal way) and up until the child is twelve years old. The Directive stipulates that two months out of this four-month leave period must be non-transferable between the parents and that two months of such parental leave are to be paid for, however at a rate to be determined by each Member State.
Five days of carer's leave has been also introduced for employees who provide personal care or support to a relative or person living in the same household. Up until such introduction, there was a void of protective measures for workers with dependant relatives – other than the right to take urgent family leave on grounds of force majeure for urgent or unexpected family reasons. Lastly, the Directive will introduce the right for employees with children up to eight years old, as well as all carers, to request flexible working arrangements (including reduced hours, and flexibility of both hours and the place of work).
When one takes into consideration the current shortage of labour in all sectors, the contribution of women in the workplace is more vital than ever. The need to encourage women to stay at work is increasing and having certain policies in place may not only provide the moral victory of constructing a fair and equalitarian society but may also have the practical benefit of helping to allow women to contribute to the workplace for longer. Introducing work-life balance policies may help enhance employee productivity, decrease absenteeism and avoid waste of talent. This may in turn result into a lower turnover of staff. It is evident therefore that a concrete effort of finding additional ways of contributing to the reduction of the gender employment gap (and gender pay and pension gap) and promotion of work-life balance must be done.
Such measures may include the possibility of maternity leave being able to be transferred to the father of the child, additional leave for adoption from overseas, introducing the option of having a career break (this can be exercised for example either by reducing working hours by a fifth for five years, working half-time for a year or by taking an unpaid complete interruption for one year), the right to disconnect (being the right to ignore work-related communications which are received during non-work hours) which would promote a healthy separation between time spent working and non-working hours, and introducing term-time working, which is a working scheme that allows parents to work during those hours where their children would be at school. Other measures such as accreditation or funding schemes for employers who adopt family-friendly workplace practices may also be introduced.
Nowadays, the necessity of a worker's physical presence at the workplace has become easier and easier to overcome; and this has already given rise to development in corporate business models. Many companies now allow employees to work remotely from home or job-share, and enter into annualised hour, performance, or zero-hour contracts with their employees. Such changes are intended to encourage flexibility and are opening doors to new opportunities and avenues. One issue here is that the statutory rules currently in place do not cater for such new models, sometimes leaving the employer in the dark as to how to regulate certain arrangements.
Clearly, new measures are being introduced steadily and consistently in order to reduce the gender employment gap, which is still present today, as well as to improve the work-life balance. Through such measures, we can continue building an equalitarian society which truly reconciles work and family life, as well as provides true equality of opportunity for women everywhere.
Click here to access the article.