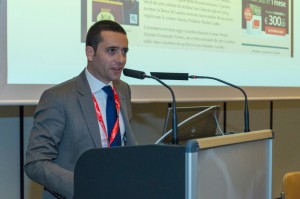 David Zahra has recently given a brief presentation on why Malta is an ideal location for the setting up of ethical and Shari'a-compliant funds at the Lugano Fund Forum 2013, held between 25 and 26 November 2013 at the Palazzo dei Congressi, Lugano.
The presentation highlighted the growth of, and increased interest in, the global Islamic finance industry. Shari'a-compliant investments funds have become a real alternative in asset management, especially after the recent financial crisis. David Zahra explained the workings of Shari'a-compliant funds, highlighting the similarities as well as the differences from conventional investments funds.
Malta is the ideal location for the setting up of Shari'a-compliant funds for  number of reasons. Apart from Malta's geographical location – at the crossroads between Europe, North Africa and the Middle East – Malta is a reputable, stable and European jurisdiction. Moreover, the Malta Financial Services Authority (MFSA) has issued formal guidelines on the setting up of Shari'a-compliant funds in Malta. The Guidance Notes set out, in detail, which types of Islamic funds can be set up in Malta and how and, among other things, explains what level of disclosure is required on the Shari'a Supervisory Board and the particular investment guidelines.
The Guidance Notes provide certainty to promoters wishing to domicile their Islamic investments funds in Malta.
The presentation was part of a slot in the conference's programme dedicated to Malta with Mr Joseph Camilleri, Head of Business Development of Valletta Fund Services Limited, speaking about the Maltese regulatory framework for investment funds as well as recent developments, and Mr Andrew Manduca, Chairman Deloitte Malta, speaking about the taxation of asset managers and funds in Malta.
Click here for the text of the presentation (in Italian) given by David Zahra at the Lugano Fund Forum 2013.